Our Song
To start your journey to becoming a "Healthy Bastard" you start with our song!!!.
Videos created by Stag Productions, for more info, please contact stagproductnz@gmail.com
About us
The Healthy Bastard's campaign has been running for the past 30+years lead by Dr Dave Baldwin with his unique insight into the disparity of common folks' health as a rural G.P via Bulls Medical Centre and his aviation medical practice Bulls Flying Doctor Services.
Dr Dave over the years has developed the HB campaign into a platform to pass on good health messages wrapped in humour in the style of beloved comic author Barry Crump. From authoring the non pc humour with good health messages in his best seller "Healthy Bastards" the book, He has since authored the HB trilogy including multiple articles Dr Dave is on a mission. The healthy bastard's campaign has grown over the years to not just focus on the health of your body but your mind and spirit. His latest book the Bushmen's bible reflects this transcendental journey, which continues to this day.
The HB Platform has also progressed into a charity foundation called the Healthy Bastards Helping Help Foundation. This progression gives the foundation the task to carry on the good work forward that Dr Dave has been doing via his HB Campaign. Some of the works that he has been involved in, is sponsoring teams and various competitions and events including athletes for national and international events.
Our Mission
"To get any unhealthy or unfortunate bastards in our society back on track"
You can help us to carry out our mission by donating to the foundation using the following bank details:
Healthy Bastards Helping Hand Foundation
Account number: 03-1522-0165157-000
Please email us at dave@flyingdoctor.co.nz to get a receipt for your tax records Thank you.
About Dave
Dr Dave Baldwin completed his medical degree at Otago University, Dunedin. He joined the RNZAF in 1989 and became the Base Medical Officer at RNZAF Base Ohakea.

Three years later he left the RNZAF and began developing the Bulls Medical Centre located in Bulls. Since this time the Manawatu region has provided him with not only a wonderful environment to bring up his family... Read more
Resources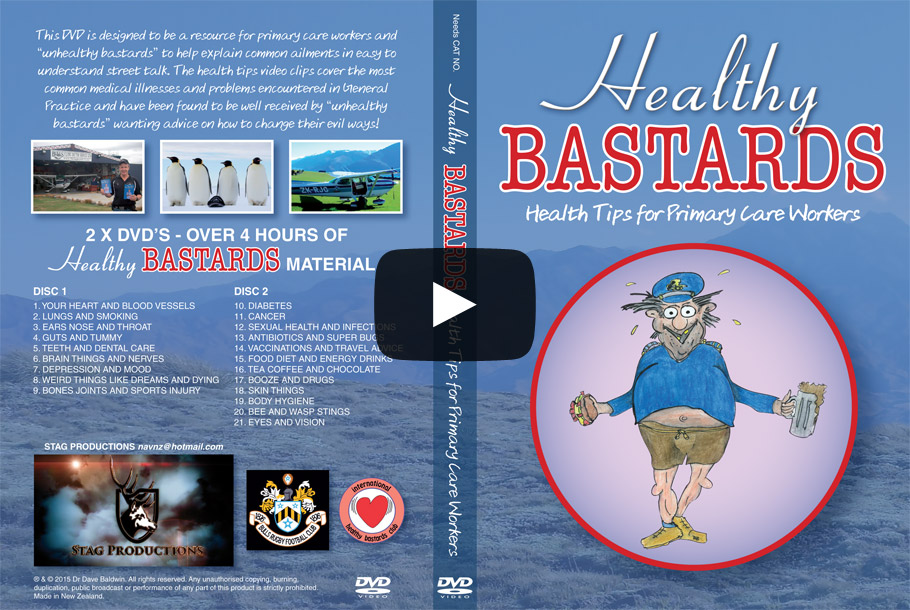 Click the picture link to view the online medical videos by Dr Dave for most common illnesses and problems
Shop